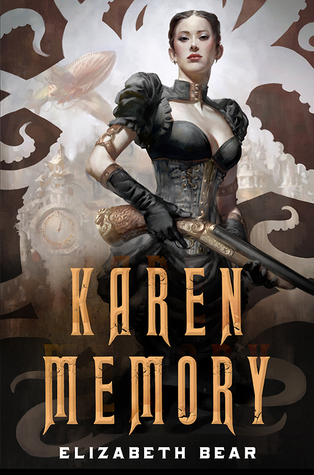 Karen Memory by Elizabeth Bear
Publisher: Tor Books
Publication Date: February 3, 2015
Edition: Hardcover, 350 pages
Genre: Steampunk, Western, LGBT
Rating: 3.5/5 Rating
---
The tastiest steampunk novel you'll read!

Backcover:
"You ain't gonna like what I have to tell you, but I'm gonna tell you anyway. See, my name is Karen Memery, like memory only spelt with an e, and I'm one of the girls what works in the Hôtel Mon Cherie on Amity Street. Hôtel has a little hat over the o like that. It's French, so Beatrice tells me."

Set in the late 19th century—when the city we now call Seattle Underground was the whole town (and still on the surface), when airships plied the trade routes, would-be gold miners were heading to the gold fields of Alaska, and steam-powered mechanicals stalked the waterfront, Karen is a young woman on her own, is making the best of her orphaned state by working in Madame Damnable's high-quality bordello. Through Karen's eyes we get to know the other girls in the house—a resourceful group—and the poor and the powerful of the town. Trouble erupts one night when a badly injured girl arrives at their door, begging sanctuary, followed by the man who holds her indenture, and who has a machine that can take over anyone's mind and control their actions.  And as if that wasn't bad enough, the next night brings a body dumped in their rubbish heap—a streetwalker who has been brutally murdered.

Bear brings alive this Jack-the-Ripper yarn of the old west with a light touch in Karen's own memorable voice, and a mesmerizing evocation of classic steam-powered science.
This was a do or die novel for me. I read Range of Ghosts, but just could not get into it; I couldn't tell if I was in a reading funk, or if I simply wasn't a fan of Bear's writing. Then I read her short story, In Libres (my review), and it was an instant favorite! After that, I decided to give a Bear novel, one more shot. As you can tell from the rating above (and what I thought was really clever blurb) I enjoyed this novel a lot.
Karen Memery is a prostitue… I mean, she is seamstress who works and lives in a seamstress house, run by Madame Damnable, with other women, who all pay their sewing machine taxes to the city. (So, you know – it's a legit business).
One night after the ladies had all finished up their sewing, they hear a loud ruckus outside, and discover it to be an ex-seamstress and a current-seamstress – both of whom are not of this house. One of these women is badly injured and taken upstairs; that is when Peter Bantle and his crew show up looking for, what they claim, is their employee. It was not a completely peaceful or clean exchange, but the ladies are able to make Bantle and his boys leave.
It appears that Karen is still a target for Bantle, because the next time she heads out to the town market, one of the men from Bantle's crew confronts Karen and begins a fight. It is at this fight that Karen first meet Marshall Bass Reeves, and learns that the man whom the Marshall is looking for and the man who is giving Karen and the rest of the girls problems, may be one in the same.
This book started off rocky for me, and I thought it was going to be another struggle. The story takes place out on the West Coast, during a Gold Rush up to Alaska in the 19th Century. Now them peoples out there, you knowed they gone have them an accent and one them dialects. Which is all good, and ain't nothing wrong that… But when the story is told from a single, first-person POV… that accent can be a bit much to read. I can appreciate that Bear kept the narration, and not just the conversations, true to Karen's dialect (and seeing as how it is told from Karen's POV, it made perfect sense). While it didn't take away from enjoyment of the story, it did take almost halfway to get adjust to the wording and over use of the "-ed" added to too many words.
My next issue was with the setting: this is a steampunk novel, but I didn't really get that sense too much until the second half of the novel. The one problem I had with this novel, was that the story doesn't travel anywhere – at the start, at least. It was essentially different rooms in the sewing house and the market square. I felt very confined reading it, especially when I knew there was a whole steampunk-esque city out there to explore! Fortunately though, just when this was starting to be a distraction for me, we travel all around, begin to see a ton of steampunk elements in use, and finally felt this world come to life!
What are some of these cool steampunk things? Well, the best ones comes at the end, but there are a ton cool inventions that we see throughout the story. The one thing in particular that stood out to me, was this sewing machine that would require a person to get into it, in order to operate. When Karen was first describing this piece of machinery that was simply sitting on display, I could help but picture Ripley from Alien XD
The star, the highlight, and the best part of this novel was Karen Memory herself! This girl has attitude! The opening paragraph sums up her character perfectly, and from those first lines, I instantly fell in lover with her her! Seriously, if I met Karen I would ask her out on date. She is incredibly caring and thoughtful; the type of person who would do anything for a friend. She's a determined gal too (those opening lines gives a good example of some at that attitude which she will use if you piss her off). But the best part? She's is a total foodie!!!!! 😍 Wait until see you see the quotes she has.
It was a slow start for me, with the dialect and lack of location changes, but by the second half, all of that had changed. I was adjust to the reading, we got to see how incredible the steampunk world was, and there was good amount of action. Even the main mystery of the story proved to be a big surprise to me. The one constant for the whole story, though, was how great Karen Memery's character was.
3.5/5 Rating
-DJ
Date Read: 07/22/15 - 07/25/15


Review Written: 07/28/15