The Bastard Read-Along is being hosted by Kaja @ OfDragonsAndHearts and myself. If you are interested please comment down below with your name or like to your review if you have written one, and we will add your name to the list of bastards. We would love for you to join us and read along! 🙂 However, you don't have write a review to participate. Fell free to just read the the books, and then comeback and read everyone's review and join in on the discussions 🙂
---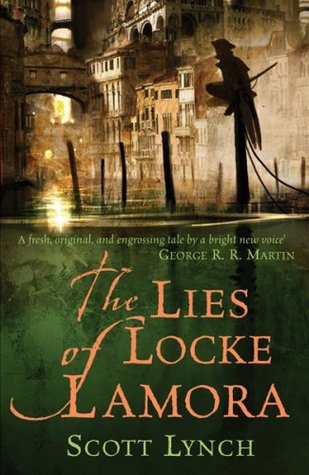 The Lies of Locke Lamora (Gentlemen Bastard Sequence #1) by Scott Lynch
Publisher: Gollancz
Publication Date: February 1, 2007 (first published June 27, 2006)
Edition: Paperback, 531 pages
Genre: Epic Fantasy
Rating: 5/5 Rating
---
Every once in a while, I come across a book that is nothing short of fantastic – and The Lies of Locke Lamora is one of those books.

Backcover:
In this stunning debut, author Scott Lynch delivers the wonderfully thrilling tale of an audacious criminal and his band of confidence tricksters. Set in a fantastic city pulsing with the lives of decadent nobles and daring thieves, here is a story of adventure, loyalty, and survival that is one part "Robin Hood", one part Ocean's Eleven, and entirely enthralling…

An orphan's life is harsh — and often short — in the island city of Camorr, built on the ruins of a mysterious alien race. But born with a quick wit and a gift for thieving, Locke Lamora has dodged both death and slavery, only to fall into the hands of an eyeless priest known as Chains — a man who is neither blind nor a priest.

A con artist of extraordinary talent, Chains passes his skills on to his carefully selected "family" of orphans — a group known as the Gentlemen Bastards. Under his tutelage, Locke grows to lead the Bastards, delightedly pulling off one outrageous confidence game after another. Soon he is infamous as the Thorn of Camorr, and no wealthy noble is safe from his sting.

Passing themselves off as petty thieves, the brilliant Locke and his tightly knit band of light-fingered brothers have fooled even the criminal underworld's most feared ruler, Capa Barsavi. But there is someone in the shadows more powerful — and more ambitious — than Locke has yet imagined.

Known as the Gray King, he is slowly killing Capa Barsavi's most trusted men — and using Locke as a pawn in his plot to take control of Camorr's underworld. With a bloody coup under way threatening to destroy everyone and everything that holds meaning in his mercenary life, Locke vows to beat the Gray King at his own brutal game — or die trying…
Every once in a while, I come across a book that is nothing short of fantastic – and The Lies of Locke Lamora is one of those books. World-building that will leave you in awe; beautiful and smooth prose with a vocabulary that will leave you jealous; complex and sympathetic characters; plot full of mystery and action and intrigue that leaves you reading at steady, non-stop pace the whole time; and a story that hits you right in the heart and draws out all your emotions. The Lies of Locke Lamora is a near flawless novel.
Locke Lamora is arguably the greatest thief in all of Camorr, and leader of the greatest  crew too, The Gentlemen Bastards. As an orphan boy, he was picked up by the Thiefmaker of Camorr where he first learned the ways of thievery. Shockingly though, even Locke's pathological stealing was too much for the Thiefmaker to handle. This was when he sold off to the Eyeless Priest at the Temple of Perelando. It is at the Temple that Locke begins his true training in the false-face; where he first becomes a member of The Gentlemen Bastards; and where he first begins his path that will lead him to be known as the myth and legendary conman, The Thorn of Camorr.
The Gentlemen Bastard's lastest con is going to be their greatest yet: they plan on taking tens of thousand of crowns from Don Lorenzo Salver. Posing as a wealthy nobel from the House of bel Auster, Locke intends to befriend Don Lorenzo, trick him into making a deal, and slowly taking away all his crowns.
Things seems to start off promising and better than intended – but then The Grey King makes his entrance. When he starts hitting off garristas, this is when even Barsavi, Capa of Camorr, becomes scared, and decides to involve Locke in his plans to defeat The Grey King. Sadly, for Locke, this is only the beginning of his involvement with the dispute between the Capa and Grey King, and as things progress, events make the con with Don Lorenzo even more complicated. And before Locke knows it, he is in over his and it is no longer his con that he has to worry about… but the lives of himself and his fellow Gentlemen Bastards.
Honestly, I feel like there is nothing I could possibly write that will do this book justice; I simply do not have the capability or skill to express the magnitude of how magnificent I thought his novel was. So, instead of me ranting my fingers of and going all fan-boy over this review, I will do my best (no promises) to get right to the point and be direct about what I liked and why you need to read this (as I am currently almost already at 900 word count) XD
If you are a fan of world-building, then you are going to love what Lies of Locke Lamora has to offer. Our story takes place in Camorr, where I like to break things down into the three class: nobles, lower class/mercahnts, and thieves. With these classes of Camorr, and other lands and nations, we see how politics, trades, the economy, and other things in Camorr work. It is here too, with politics and trade, that Locke sets his con on Don Lorenzo and gets mixed up the Capa and Grey King feud.
What I loved most about the word-building, was the culture and architecture of Camorr. I pictured Camorr as this almost Venice like city, where people got a around a lot boats – but there are also hundreds of boats in this bay area, the the Floating Market, and are used as market and merchant spot. There are also massive festivals held on these waters too, with events such fighting sharks and other monsters of the deep! What makes Camorr so special is the Elderglass. I don't want to even try to describe what it looks like – but I would give ANYTHING to see what it would look like it beautiful. Some of the scenes that Lynch wrote describing the architecture and monuments of Camorr with Elderglass left me speechless…. Wait until you see the House of Glass Roses. And oh yeah, this Elderglass in some type of alien material that was left over from whoever ruled the land before man came.
And also, briefly, there are many religions and Gods in the world, and all of these beliefs are quite an important part of the story. The only thing I could say was confusing about this story was the religions at the start. As with all epic fantasy, you just get thrown into the world like you should already know what each religions is, and what their God and what their beliefs are; same things goes for the locations (I was very upset my book didn't have a map!). In that respect, the book did take a bit of time getting into, but after while, as it is with all epic fantasy, you adjust and learn the important information.
This outstanding world-building could not have been achieved if not for Lynch's prose, which, once again, I cannot say how much I love. Like Brain Staveley, Lynch is an author whose vocabulary leaves me incredibly jealous and did wonders for getting me sucked into the world even more, making it feel real to me. Honestly, I could probably read a whole book where Lynch just describes the Floating Market, and I would never get bored(!), because I am pretty sure that he would never use the same adjective twice, and would be able to describe every single boat on that river in a different way.
What else Lynch's extensive and exceptional vocabulary and prose does, is it enhanced my connection with each character. Lynch is able to make each character's descriptions, mannerisms and habits, and dialect unique to each one of themselves.
The Gentlemen Bastard is made up of five members: Bug is the youngest and newest of the crew. He looks up the other guys as his brothers, fathers, mentors, and best friends. He willing and more than eager to do anything to help his fellow Bastards and prove that he is worthy and as good as them. Calo and Galdo are brothers; two trouble-making, card-playing partners, who are in sync like only two brothers could be, completing each other's thoughts and sentence like they came from the same mind. Although they are brothers, and nearly one-in-the-same, Lynch does an excellent job at making them slightly different – and I'd have to say that my favorite is Calo. The next member of the crew is Jean. He is essentially Locke's best friend, and as the story goes on, you will understand why. And he also duel wields a pair of hatchets he calls The Wicked Sisters.
The main star of the show, as the novel is so appropriately named after, is Locke Lamora. Where to begin to begin… Let's just, like Jorg from the Broken Empire trilogy, Locke is unlike another characters who I'd ever read before, and most likely will ever meet again. He is young, arrogant, clever, thinks knows he can get away and do anything he so desires, and he is the best at what he does, and seems to be blessed with the favor of the Gods and given luck like you wouldn't think possible. So yeah, he a good reason to act like the Thorn of Camorr.
Being a false-face, conman – and the best out there – Locke is often going under different disguises and taking on different personalities and attitudes – depending on the situation and person he is pretending to be. This was where I thought Locke character's became one in his own, and Lynch was able to show off his writing skills again. Lynch establishes us to who Locke Lamora is – which depending on who is around, changes how he talks and acts. But, most impressively, when Locke goes under disguise, it felt like I reading a Locke under disguise! Let me elaborate: as a reader – it wasn't Locke changing his clothes but keeping his same dialect (bad conman and bad writing), nor was it like a completely different character and dialect (good conman, but again bad writing; this is a supposed to be a conman Locke, not a new character). What Lynch is able to do is, for each of Locke's personas, Lynch changes Locke's dialect and mannerism, so there is essentially no trace of the Locke we see around the Gentlemen Bastards. However, Lynch is able write Locke's thought and the descriptions of the scene and events taking place around, for the readers to still see that this is Locke we a reading about! Not a new character, not just the same Locke as before, but Locke the best-fucking-conman of Camorr.
Right, there is a plot too (oh boy, nearing on 1,900 words). When I think of thieves, I'm picturing clocked figures, sneaking around in the night, with daggers hidden up their sleeves. When I began this book, I was kind of expecting something like Brent Week's Night Angel trilogy. Not a much killing, but something close. This is nothing like that. Apparently in my head, I associate thieves and assassins as the same things – which they are not. Still, this may not be the type of thief story you are expecting from fantasy: The Lies of Locka Lamora is a heist story. As one reviewer said, it a like Oceans 11. This is not to say that there aren't any fights and battles, but the drama and suspense is held in the plot – and the dialog and conversations and banter is more then captivating.
One thing I enjoyed a lot, and looked forward to each chapter, were the interludes. Each chapter starts off with the main plot line – Locke's con and the Capa and Grey King – but after that part is told, before the chapter comes to an official end, Lynch will tell a brief interlude. In these interludes, we learn the backgrounds of some of Gentlemen Bastards, and some history and lore of Camorr and the rest of the world. My favorite interlude was The Tale of the Old Handball Player.
Despite this being the first book of a seven book series, this is no way had that "first book" feel to me. As you are reading the story, you can subtlety feel Lynch laying down the ground work for the rest of the series: the Bondmages, Locke's past, Camorr and the Elderglass, Duke Nicovante, Sabetha. These topics and a few more are brought up in the story, but, really, only as passing information or not explained in depth at all. Usually this may upset or make me want to crave more information, but not here; I was too focused on the main plot line that this book was about. Everything I mentioned just there I do badly want to know more about, and have me wondering if/when it will be brought up the future books – but Lynch laid down just enough for readers to know that there is a lot more going on that we do not yet know about, and will (hopefully) learn about soon; yet, not so much that it will leave readers aggravated that these questions were not answered.
The BIGGEST surprise of the novel, for me, was the emotion that this story made me feel. Serious EMOTION. The brotherhood, and family, and love and support, that The Gentlemen Bastards share for each other, you as the reader feel that bond that they all share; feel that care and concern Locke has for his fellows bastard; and feel that same whirlwind of emotions that Locke goes through. And even if you don't sympathize with Locke in this story, there is no humanly way possible this story will not hit you in the feels.
I read nearly all this book when I was at Starbucks. One time when I was reading, I got to a certain point, and I was damn near that close to just crying out in public because of what just happened. I won't spoil what it was, but I will say, " I don't have to beat you, motherfucker. I just have to wait here… until Jean shows up." Those of you who have read the story, know exactly what I am talking about 😦
Reading this review over now, I feel I haven't even touched the surface of what this story has to offer, but (since I am at just about 2,500 words) I will end it in short: I said it after I read Lynch's short story, A Year and a Day in Old Theradane (my review), and I'll say it again: WHY HAVE I NEVER READ SCOTT LYNCH BEFORE?! To be more specific: WHY DID I WAIT SO LONG TO START THE GENTLEMEN BASTARD SEQUENCE?!
Fellow Bastard's Reviews of The Lies of Locke Lamora:
5/5 Rating
-DJ
Date Read: 12/31/15 - 01/22/16


Review Written: 02/01/16