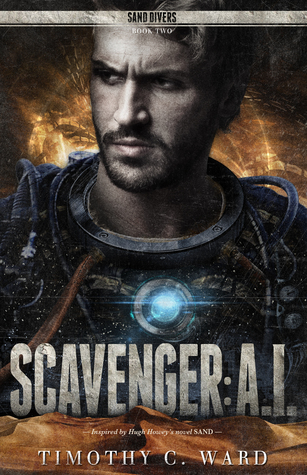 Scavenger: A.I. (Sand Divers #2) by Timothy C. Ward
Publisher: Spike Publishing
Publication Date: June 28, 2015
Edition: ebook, 276 pages
Genre: Science Fiction, Post-Apocalyptic
Rating: 3.5/5
---
Sympathetic characters and imaginative sci-fi technology.

Backcover:
Hundreds of years ago a nanotech virus nearly wiped out humanity. The kernel of that technology has been locked in a buried military and guarded from warlords and tyrants by a class of sentries. Divemaster Rushing Stenson and his wife Star thought their journey underground would lead to the discovery of the ancient city of Danvar. Instead, they resurrected a power perfect for the tyrant that put them there. He plans to use this self replicating technology to rebuild America and give life eternal to those loyal to his empire.

In Scavenger: A.I., Rush, Star and their crew of survivors see an opportunity to use this power to defend their new territory and rewrite the course of their lives and country in a way that would make their children proud. However, as they discover the oddities of this power, it may be too late to reverse the evolution they've seen within. And some aren't interested even if they could. Even if what they're becoming is too much like the tyrants they're fighting.

As the nanotech and infusion of the power source they've uncovered changes Rush and Star, they are tempted with the chance of bringing their deceased newborn back to life. Will this child be the one they knew, and if not, how far into dangerous territory will they go to force what shouldn't be?

Inspired by the world of Sand by Hugh Howey and written with his permission. This stand alone series takes the action of Mad Max: Fury Road and injects it into a hostile environment catered to fans of Alien.
*Disclaimer: I received an eARC of this book from the author in exchange for my honest opinion and review.
Scavenger: A.I. is the sequel to Timothy C. Ward's debut novel, Scavenger: Evolution (my review), a novel I believed showed a lot of promise with its sympathetic protagonist and fast-pace. After reading Scavenger: A.I., I can say that Timothy has continued to improve on his writing, creating more sympathetic characters, keeping that fast-pace throughout the story, and creating a highly imaginative sci-fi tech story with his Poseidon suit and nano-technology.
Rush and Star have just killed Warren and temporarily defeated The Gov – but at the cost of injecting themselves with the plasma. They must now prepare a defense to prevent The Gov from taking over when he arrives. First though, they must take care of themselves. Both of them now contain the M-MANs, the nanos, but it was Avery who go the worst of it, and they are off to find Nedzad who is taking Avery to a containment area to try to cleanse him.
On their way there, they receive a message from a voice that sounds familiar… it is Warren's. Apparently the M-MANs did something special with his brain and body when they "killed" him. It is actually an artificial intelligence that wants to be called, "W", and it is unclear whether he is an ally to them or The Gov.
The other group, Dixon, Carrol, Jeff and Cool and their mother, are all on their way to Denver. Before they can get out though, Jeff's arm was hit and is now infected with the M-MANs and his health is slowly declining. Dixon is leading the group to a hospital, and aside from Jeff's health, everything is going smoothly… until they meet up with some of The Gov's men and Carrol starts to act strange.
The BIGGEST change from Evolution to A.I. was how the story told. From the way book 1 ended, and with my brief plot outline above, it should have been obvious that a single POV from Rush was no longer possible – we now needed multiple POV characters. Aside from Rush, we have Star, Gov, Nedzad, Cool, Dixon, Carrol, and W chapters! For me, this was a bitter-sweet thing. I loved reading from Rush's POV in Evolution: the sympathy and connection I felt for him was immediate and only grew as the story went on. So naturally, I want to keep reading him.
The story starts off alternating between Rush, Star, and Nedzad – who are all kind of in the same area and plot-line. After a little bit though, all three go there separate ways; plus, we have Dixon's and Cool's group going to Denver. So, in order to tell the story, we need to see less of Rush, and more of others . At first I was bummed, because as I said, I wanted only to read Rush, but as I quickly built up a connection to Rush before, so did I to the other characters.
Star, as you may recall, was acting very strange in last book, and no we can finally understand her motivations, and see how she feel towards Rush about what happened with their son, Fish. Cool turned out to be my favorite POV to read, because, in short, there were so cool to read! I had no idea that Cool was such a great character! He is that younger brother, who is now trying to take care of his hurt older brother; stay strong for him mom; prove that able to help lead to Dixon; and looks up to Rush like his missing father. Nedzad turned out to have quite a mysterious unknown background, and became much much more than a sentry.
 One complaint I had in Evolution was that too much time was focus on Rush, and we didn't learn/develop as much about the side characters. Well, that complaint wasn't even a thought here! The one things that those three characters, the other POVs, and Rush all have in common, is they all are incredibly sympathetic.
What was also great in A.I. was the amount of tech that was involved in the plot. Sand-diver suits, the Poseidon suits, and the M-MANs were important before, not nearly as crucial to the plot and characters as they are this time. I mean, the main antagonist, W, is an artificial intelligence born from the M-MAN nano-tech! I thought the Poseidon suit was awesome when I read it before, but seeing what the M-MANs can do (like how they turned into dogs) and then learing what can be done with them when under your power was incredible or me.
What I LOVE about sci-fi stores, is when they can present some type of technology that can get me thinking about the possibilities of what it can do. And this is nano-technology, that you can control and tell to do anything you imagination, simply by thinking it…. Yeah, I had a field day with this.
As for the plot, a LOT more complex than I was expecting. The ending of Evolution did allude to that, but the having of multiple POVs with different plot lines, introducing more character's background, having different areas that story was taking place, and introducing a new antagonist beside the Gov, greatly opened the door for Timothy to expand the scope and detail of this story. It went from a story about Rush, a sand-diver trying to save his Wife, to a story about a group of individuals, all with different motivations and goals, stuck in a battle between the Gov, Warren, and themselves.
Timothy C. Ward has talent for writing sympathetic characters and creating imaginative sci-fi technology. I was pleased to see him expand this story to multiple POVs; I believe the pacing and length of this format is something that needs to be worked on, but everything I thought that needed be worked on from Evolution has greatly improved here, in A.I. If that is any indication, then I very much look forward to reading the next series by Tim 🙂
3.5/5 Rating
Sand Diver series: 3.5/5 Rating
-DJ
Date Read: 06/13/2016 - 06/25/2016


Review Written: 06/26/2016