Today I am interviewing Timothy C. Ward, author of the new sci-fi novel, Scavenger: A.I., second book of the Sand Divers series.
I also have the honor of revealing the Scavenger: A.I. cover on my blog, and Timothy has been gracious enough to provide one (1) ebook copy of Scavenger: Evolution to every commenter(!), and possibly two (2) more copies of his books to my readers, along with detail for other ways that you would win a copy!
◊  ◊  ◊
DJ: Hey Tim! Thanks for stopping by to do another interview!
For readers who aren't familiar with you, could you tell us a little about yourself?
Timothy C. Ward: I'm a husband and soon to be father of two. My first novel, Scavenger: Evolution was inspired by how a couple might drift apart after the death of their newborn. I write about family love and the weaknesses that make us doubt our ability to accomplish our dreams, often in apocalypses and with monsters of some kind, human or otherwise.
I studied creative writing for a semester in Sippy Downs, Australia (read: I went to the beach a lot, embarrassed myself just as much, got lost and went broke in New Zealand, snowboarded there before a cloud forced the end of the day, made friends that made me cry to leave, and probably only actually wrote for five days the whole time). I've matured since then, but I'm so glad I lived in that six months, even if I did so as an immature twenty year old. I'm thirty three now, I've accomplished the one million words challenge, and am planning to publish two books this summer.
I was also the executive producer of Adventures in Scifi Publishing for a year and a half and was nominated for a Hugo for Best Fancast last year.
I am a Christian, too, though that could mean so much to so many, let's just say I love you and yet may also write stories that go places which make some uncomfortable. My stories fit in a niche between what Christians might think is too secular and where everyone else thinks is on the cleaner side of dark fiction.
DJ: What is Scavenger: A.I about? What can readers of the series expect in the latest installment? Anything new? Any surprises?
TCW: A.I. is a direct continuation of Scavenger: Evolution. Aside from the blurb above, it is about extrapolating the ramifications of awakening A.I. while powering it with a form of nuclear fission we've yet to discover. How far could it grow, and how much could it change those we love in its path?
Readers of Evolution will get a surprise in that the story expands from just Rush's pov. He shares the pov spotlight with his wife, his sentry mentor, a teenager who needs a father and wants to become a hero of the story, and a few others I'll not spoil here.
DJ: In the previous book, you came up with some pretty cool technology in the form of the Poseidon suit. Did you create anymore new tech for Scavenger A.I.?
TCW: The Poseidon is a big part of the sequel, but more so is the combination of nanotech A.I. with telekinetic powers and nuclear fission fueled evolution. We also have plenty of sand diving.
DJ: What was your favorite part about writing the Scavenger: A.I.?
TCW: Giving Star a voice and point of view. I like thrillers, but I'm trying to balance emotional impact with action better than I may have in the first book. Reviews are mostly positive, but I'm always trying to improve. This book was an effort to unpack the heart of their story while also making the action scenes count.
DJ: What do you think readers will be talking about most once they finish it?
TCW: The ending. How do I add to that without spoiling anything?
DJ: The first book, Scavenger: Evolution, was actually comprised of 3 books – one novelette and two novellas. Was Scavenger A.I. written in the same format (separate books) or did you set out to write this as a novel?
TCW: I set out to make it one book, or in another way, I did not want to serialize this book. There are two parts that I label as Eclipse and Falling Star, which I guess makes it like a novella and a short novel in one. The breakup is not far from books that have parts. I wanted it to be complete and to possibly wrap up the series if it doesn't sell.
DJ: What were some of your influences for the Sand Divers series?
TCW: Hugh Howey's novel Sand is the world my story is told in. I have my own set of characters, so it stands alone. I was inspired by the awesome sand diving technology and the idea of a futuristic kind of treasure hunting for lost cities. I'd say Dune and Alien are also inspirations because of the milieu we encounter in their worlds.
DJ: Once Scavenger: A.I is released, what is next for you?
TCW: I have a fantasy novel coming out in a few months called Godsknife: Revolt that I call an apocalyptic fantasy set in the rift between Iowa and the Abyss. This is my more theological book as it analyzes a world like ours but without our religious history. Instead, Maker, Order and Chaos are the three "religions" and yet their powers have been hidden for so long that this world feels like our present day. The basic idea is getting into the lives of my characters as they struggle through which path they pursue, while a giant praying mantis apocalypse and sudden trip into the Abyss keep them busy.
DJ: Where can readers find out more about you?
Amazon Author Page: https://www.amazon.com/Timothy-C.-Ward/e/B00CWMRSQI/ref=ntt_dp_epwbk_0
Blog: www.timothycward.com
Bookbub: https://www.bookbub.com/authors/timothy-c-ward
Facebook: www.facebook.com/timothycwardauthor
Goodreads: https://www.goodreads.com/author/show/7099403.Timothy_C_Ward
Twitter: www.twitter.com/timothycward
DJ: Thank you so much for taking time out of your day to answer my questions!
◊  ◊  ◊
◊  ◊  ◊
◊  ◊  ◊
Giveaway Details: 
1. One (1) free ebook of Scavenger: Evolution to a

EVERY 

commenter! (please leave your email or someway to be contacted in the comment as well)
2. One (1) singed paperback copy of Scavenger: Evolution or Scavenger: A.I. to any commenter who also posts a review of either book by June 28, 2016 (leave a link to you review in the comments)
3. If you post a review of Scavenger: Evolution before June 28, 2016, email Timothy at tim @ timothycward [dot] com with a link of you review, he'll send you free ebook copy of Scavenger: A.I. in you preferred format!
4. Sign up to Timothy's Newsletter: subscribers will have different ways to win and be notified on sales!
5. Don't forget to try your luck in the Goodreads Giveaway! Staring Saturday, June 18!
◊  ◊  ◊
---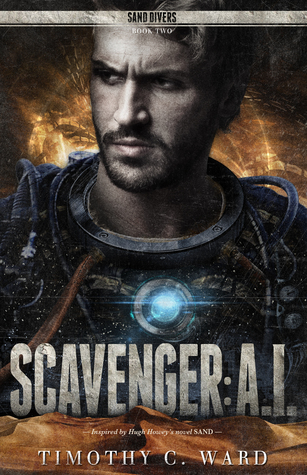 About the Book:
Hundreds of years ago a nanotech virus nearly wiped out humanity. The kernel of that technology has been locked in a buried military and guarded from warlords and tyrants by a class of sentries. Divemaster Rushing Stenson and his wife Star thought their journey underground would lead to the discovery of the ancient city of Danvar. Instead, they resurrected a power perfect for the tyrant that put them there. He plans to use this self replicating technology to rebuild America and give life eternal to those loyal to his empire.
In Scavenger: A.I., Rush, Star and their crew of survivors see an opportunity to use this power to defend their new territory and rewrite the course of their lives and country in a way that would make their children proud. However, as they discover the oddities of this power, it may be too late to reverse the evolution they've seen within. And some aren't interested even if they could. Even if what they're becoming is too much like the tyrants they're fighting.
As the nanotech and infusion of the power source they've uncovered changes Rush and Star, they are tempted with the chance of bringing their deceased newborn back to life. Will this child be the one they knew, and if not, how far into dangerous territory will they go to force what shouldn't be?
Inspired by the world of Sand by Hugh Howey and written with his permission. This stand alone series takes the action of Mad Max: Fury Road and injects it into a hostile environment catered to fans of Alien.
---
About the Author:
Timothy C. Ward is a former Executive Producer for Adventures in SciFi Publishing. His sand divers in the apocalypse novels are Scavenger: Evolution and Scavenger: A.I., and his next release will be Godsknife: Revolt, an apocalyptic fantasy set in the rift between Iowa and the Abyss, available from Evolved Publishing, July 2016. His short fiction, "The Bomb in the President's Bathroom," released in the Amish SciFi anthology, Tales from Pennsylvania, and "Staring Into," is published in the anthology, Masters of Time.
He can be found online at www.timothycward.com.
---